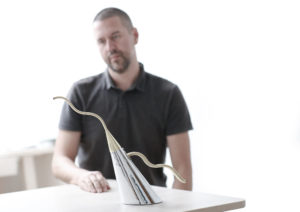 Hi there, I´m Peter, a Slovenian industrial designer.
Welcome to my portfolio.
Something About Me:
I was born in 1971 in Ljubljana, Slovenia (Europe).
I have loved art and design from a young age, so I wanted to be a designer when I grew up.
I even invented and made almost all my toys.
I graduated from the Academy of Fine Arts at Professor Marijan Gnamuš in Ljubljana, 1997. In 1998, I received the national Student Prešeren Award for my graduate thesis. During my studies, I also worked as a restorer and a sketch artist at the City Museum in Ljubljana. After graduating, I worked for the Ljubljana design studio Esenca for a couple of years and then spent seven years working as a graphic designer in the Kabinet01. I have been working on industrial design projects for WilsonicDesign studio and OOH NOO brand for 12 years now.
I believe that good and timeless design has to be intuitive, needing little to no explanation.
I admire minimal design because it's all about underlining the essence of a function rather than decorating for attention.
+386 41 507 540